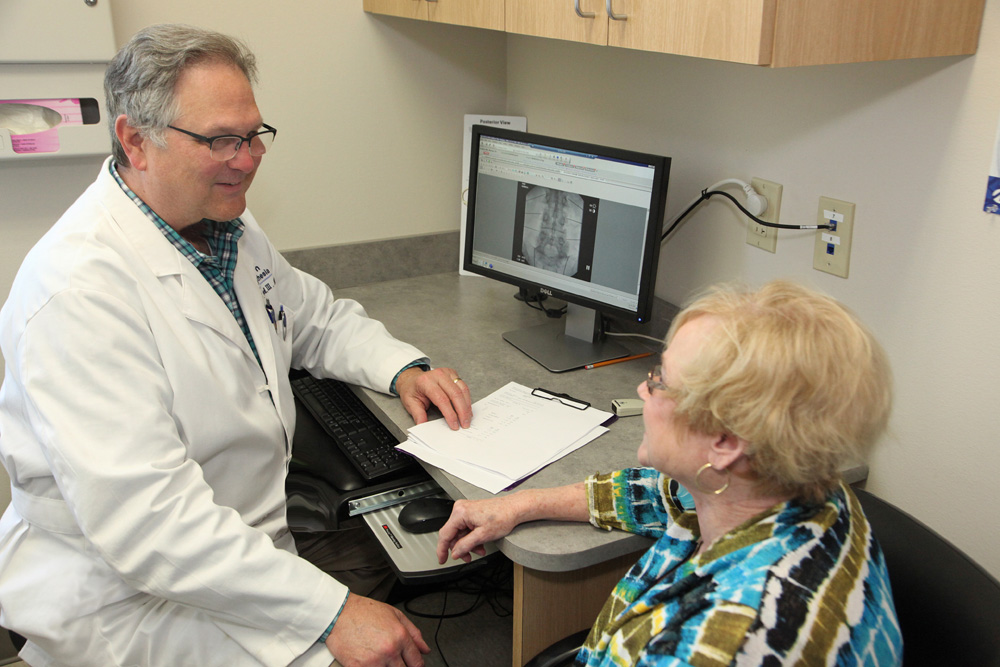 Millions of people across the U.S. suffer from some form of back pain. In fact, around 2% of the workforce files for workers' compensation each year, citing back pain as the reason.
There are times when back pain can be relieved with options such as ice, heat, physical therapy and non-steroidal anti-inflammatory drugs.
However, patients throughout the Greater New Orleans area who experience more severe and chronic back pain (including disc herniation) may want to consider looking into other types of treatment, in particular Percutaneous Hydrodiscectomy.
Disc herniation and Percutaneous Hydrodiscectomy in Southeastern Louisiana
Disc herniation is one of the most common causes of back pain, resulting in chronic and at times debilitating pain. If the outer layer of one of your intervertebral discs begins to deteriorate, it can weaken, allowing the inner layer to push outward. That protruding inner layer may irritate or impinge on spinal nerves, resulting in back (and even extremity) pain.
Patients who suffer from this type of back pain rarely find relief with conservative treatment methods. However, that doesn't mean that chronic back pain sufferers need to turn to invasive surgery. Over the past several years, a number of non-invasive treatment options have come to light and have proven effective.
One such treatment, which Southern Pain and Neurological is excited to introduce, is Percutaneous Hydrodiscectomy.
Percutaneous Hydrodiscectomy is a minimally invasive procedure we offer to patients who have a contained disc herniation that has not responded to conservative treatment options. The procedure was developed to shrink or remove the material surrounding the herniated disc that is causing the inflammation. Once the material is removed, our patients usually experience pain relief as well as less pressure on the surrounding spinal nerves.
What you should know about this non-invasive back pain treatment
Prior to the procedure, the patient is given a sedative to help them remain calm. The physician will then inject a local anesthetic to numb the area. Once the tissue is numb, we insert a larger needle or probe through the skin, and into the affected intervertebral disc, using fluoroscopic guidance. The incision size is just about a quarter of an inch long.
Once the probe is positioned properly, a water jet is used to decrease the disc size and remove any disruptive disc material. This will reduce pressure in the disc and offer pain relief.
The advantages of using water include no hospitalization, fast recovery, less pain, no bone removal, no trauma to back muscles, and no general anesthesia. Once the procedure is completed, the patient is moved to our recovery area to be monitored.
What to expect following the Percutaneous Hydrodiscectomy procedure
The entire procedure takes, on average, 20 minutes to perform, and is completed in an outpatient setting. Typically, patients can return home within 1-3 hours following the procedure.
The site of the injection may be tender for up to two days, but heat or cold packs will help ease any discomfort. We also recommend our patients to rest and limit activity for a full 24 hours.
Why you should consider Percutaneous Hydrodiscectomy for your lower back pain
Percutaneous Hydrodiscectomy is a less invasive treatment option (than surgery) for spinal pain resulting from disc herniation, and results in less scarring and fibrosis. Patients remark to us on how this quick procedure helps decrease pain and increase mobility. Patients typically return to light duty in 7 days and to heavy duty in 30 days.
We recommend this treatment option to our patients because it not only reduces pain, but was designed to actually treat the underlying condition as well. Patients suffering from chronic discogenic back pain should speak with one of our physicians about percutaneous hydrodiscectomy prior to considering spinal surgery for back pain relief.
Our doctors know that chronic pain is a prison, keeping those who suffer from it trapped and unable to do the things they want to do. The stress from pain and lack of freedom can negatively impact personalities as well. If you are suffering from chronic back pain, contact Southern Pain & Neurological and find out if percutaneous hydrodiscectomy is right for you.