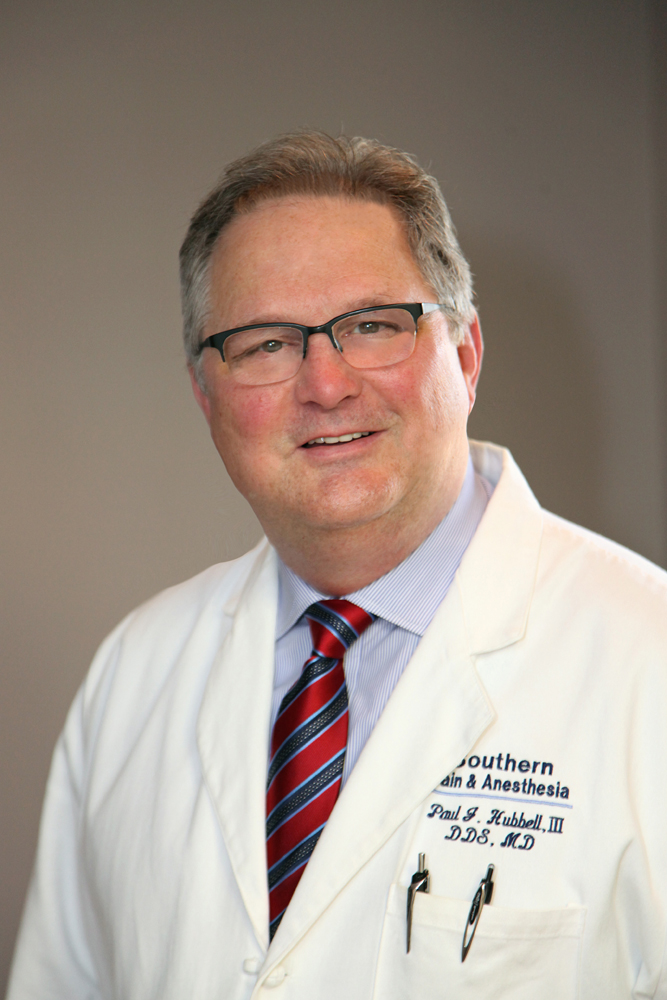 Paul J. Hubbell, III, M.D., D.D.S. graduated from L.S.U. Dental School and Practiced General Dentistry until 1983 when an auto accident caused him to retire from active practice due to a back injury.
Then Dr. Hubbell furthered his education by completing an Anesthesiology Residency at Boston City Hospital/Boston University Combined Program as one of about 250 Dentists trained in Anesthesiology Residency alongside of Medical Doctors in the United States. Upon Completion of this residency, Dr. Hubbell became a Clinical Instructor of Anesthesiology for Boston University Medical School. In 1984, while training with medical and dental postgraduate residents in Anesthesiology, Dr. Hubbell and another Dentist Anesthesiologist at Boston City Hospital started the second Pain Clinic in Boston, which was also one of the first Pain Clinics in the nation.
In 1987 Dr. Hubbell entered Creighton University Medical School in Omaha, Nebraska, where he finished Cum Laude. On completion of medical school, Dr. Hubbell was a Preliminary Year Surgical Intern at the V.A. Hospital, Des Moines, Iowa. Then Dr. Hubbell completed a three year Anesthesiology Residency with emphasis on Pain Management at Mayo Graduate school of Medicine in Rochester, Minnesota.
For the past 25 years, Dr. Hubbell has provided pain management services to hospitals and clinics throughout southern Louisiana, including in private practice at Southern Pain & Anesthesia Consultants in Lafayette, Metairie, Covington, Slidell, Marrero, and Baton Rouge.
Dr. Hubbell is a diplomat of the American Board of Anesthesiology with added qualification in Pain Management and is also a diplomat of the American Board of Pain Medicine. He is also a diplomat of the American Board of Interventional Pain Physicians. He is one of only 4 physicians in Louisiana that is an International Fellow of Interventional Pain. He has written on topics related to his field and authored chapters in Anesthesiology and Pain textbooks. He is also a Cadaver Lab Instructor for Interventional Pain Procedures for the American Society of Interventional Pain Practitioners. His duties have also included serving as an investigator in clinical trials that focused on pain care technologies.
Dr. Hubbell is the President of the Louisiana Society of Interventional Pain Practitioners and has been appointed to the Medical Advisory Committee of Louisiana Workers Compensation Advisory Committee. He also serves on the Joint Interprofessional Committee of the Louisiana Bar Association and the Louisiana Medical Association. He remains an advocate for Pain issues throughout state and Federal government as well.