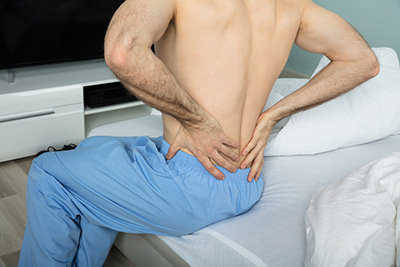 When chronic pain does not respond to traditional pain relief treatment, implanted nerve stimulators can help alleviate pain by delivering a low-level electrical signal to specific nerves within your spinal cord. An implanted nerve stimulator safely and effectively blocks pain signals from reaching your brain and "telling" sensitive nerve endings that something is causing pain.
What Causes Pain?
You feel pain when pain receptors located on nerve endings are irritated or damaged. When nerves are injured this pain is called neuropathic pain. Surface or deep tissue pain is referred to as nociceptive pain. Subtypes of nociceptive pain include somatic and visceral pain. Examples of somatic pain are burns, broken bones, bruises, sprains, and inflammatory infections. Examples of visceral pain involve pain due to organ disease/injury or disease/injury of the organ's supporting tissues. Sources of somatic pain are easier to pinpoint than sources of visceral pain simply because of the internal nature of visceral pain.
When injuries or diseases stimulate nociceptors, electrochemical pain signals immediately get transmitted through your spinal cord to the thalamus structure in your brain. How quickly pain signals reach the brain depends mostly on the severity of the disease or injury irritating nerve endings.
How Do Implanted Spinal Cord Stimulators Relieve Pain?
Similar to the way NSAIDS relieve pain, nerve stimulators also interfere with pain messages by blocking transfer of pain signals to the brain. Stimulators treat neuropathic and some visceral pain. Once activated, an implanted nerve stimulator uses conservative electrical impulses that travel along your spinal column to prevent nerves from "pain alerting" your brain. Results provide immediate, consistent relieve from chronic back, shoulder and neck pain and trigeminal neuralgia/trigeminal neuropathic pain without resorting to medications or surgery.
Implantation of a nerve stimulator is a short, outpatient surgery procedure performed at Southern Pain Clinic. Afterwards, you will need to avoid lifting anything over five pounds, excessively stretching, twisting or bending and sitting for extended periods for about four to five weeks.
Who Benefits from Implanted Nerve Stimulators?
If you have tried using NSAIDs, surgery, corticosteroids/steroids, nerve blocks, trigger point injections and physical therapy for alleviating pain without success, an implanted nerve stimulator may give you long-term, safe and reliable pain relief. However, not everyone is a good candidate for having a nerve stimulator implanted in their spine. Initially, you will undergo a trial period where a stimulator wire is temporarily inserted in the area of pain. When the trial period ends, it will be up to you to decide if the device sufficiently relieves your pain. If everything goes well, we can then implant the pulse generator and wire comprising the bulk of the implanted nerve stimulator device.
Call Southern Pain Clinic today to schedule a consultation appointment regarding your pain management program and the possibility that an implanted nerve stimulator may be right for you. We can help improve your quality of life by developing a personalized pain management plan addressing your unique health and lifestyle needs.