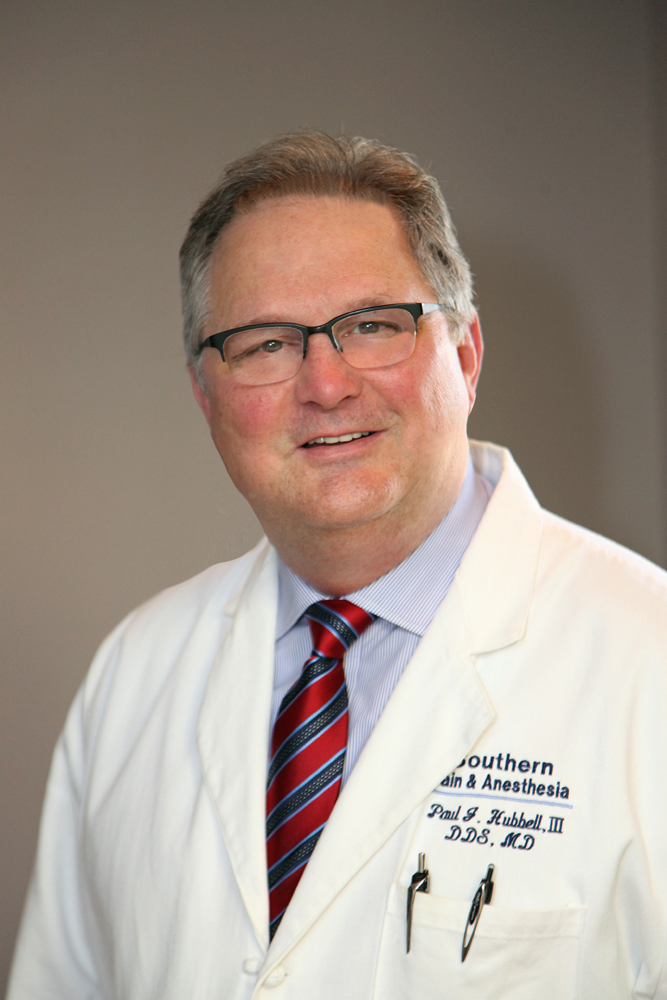 Here at Southern Pain & Neurological of Louisiana, we implement cutting edge technology and procedures to address the chronic pain needs of our clients.
But it's the men and women who work in our clinics that help change people's lives. And that includes Paul J. Hubbell, III, M.D.
Dr. Hubbell began his career as a dentist. But an auto accident forced him into retirement due to a lingering back injury. Dr. Hubbell made the most of this unexpected retirement by going back to school to complete his Anesthesiology Residency in Boston. Upon completion of his Anesthesiology Residency, Dr. Hubbell became a Clicnical Instructor of Anesthesiology at Boston University.
His new career path gave him the esteemed honor of being one of just 250 dentists trained in Anesthesiology. With his personal and professional experiences as a foundation, Dr. Hubbell co-founded a Boston-based pain clinic in 1984, which became one of the first pain clinics in the entire country.
But Dr. Hubbell was not finished. He decided to attend Creighton University Medical School (in Omaha, Nebraska). Here, he finished Cum Laude and upon graduation became a Preliminary Year Surgical Intern at the V.A. Hospital in Des Moines, Iowa.
He completed his 3-year Anesthesiology Residency with an emphasis on Pain Management at Mayo Graduate School of Medicine in Rochester, Minnesota.
Dr. Hubbell's extensive training and personal experiences with chronic pain make him a tremendous asset to Southern Pain & Neurological.
We remain honored to have someone with his expertise and passion on board. His commitment to improving the lives of chronic pain sufferers is evident in his many affiliations:
Diplomat of the American Board of Anesthesiology (with added qualification in Pain Management)
Diplomat of the American Board of Pain Medicine
Diplomat of the American Board of Interventional Pain Physicians
President of the Louisiana Society of Interventional Pain Practitioners
Cadaver Lab Instructor for Interventional Pain Procedures for the American Society of Interventional Pain Practitioners
Appointed to the Medical Advisory Committee of Louisiana Workers Compensation Advisory Committee
Serves on the Joint Interprofessional Committee of the Louisiana Bar Association and the Louisiana Medical Association
One of only 4 physicians in Louisiana that is an International Fellow of Interventional Pain
Dr. Hubbell's life's work is pain management. Aside from his work in our clinics and with his many committees, Dr. Hubbell is an active contributor to Anesthesiology and Pain textbooks.
He also serves as an active advocate to address pain issues throughout Louisiana as well as the nation.
Few doctors in the country commit more of their time to a singular issue as chronic pain than Dr. Hubbell. The work he does for our patients here at Southern Pain & Neurological transforms lives and gives hopes to men, women, and children who otherwise accepted a life of chronic pain.